.Tunic – Dress – Maternity
95.00$
You cannot even handle how versatile this 4-way maternity tunic-dress is! With this maternity convertible garment, you can show off your bump and create your own style. This tunic/dress allows your long-awaited baby to grow without you having to change your wardrobe. In a few twists, convert this long sleeves tunic-dress in a chic halter dress, wear it as a maternity top with your jeans or flip it to get a crop top. A must to your wardrobe during and post pregnancy. It is up to you!
Create Styles
with the same garment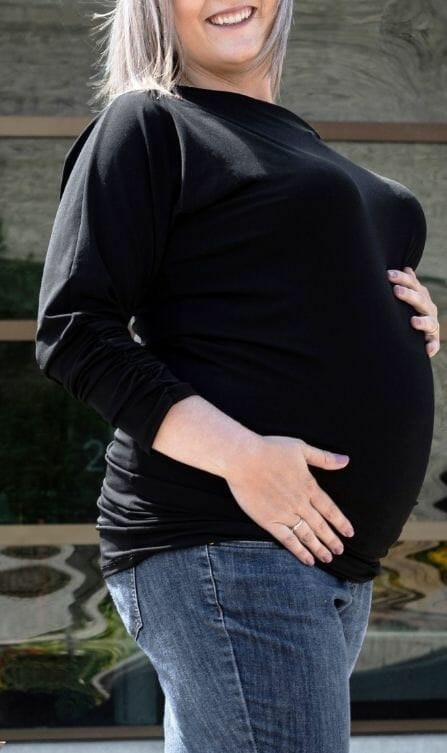 A healthy walk in the park
Its design allows you to shorten this garment and it goes perfectly with your skirt, pants and even your jeans. Pregnancy is obviously the perfect time to show off your bumpy tummy! Such a versatile garment…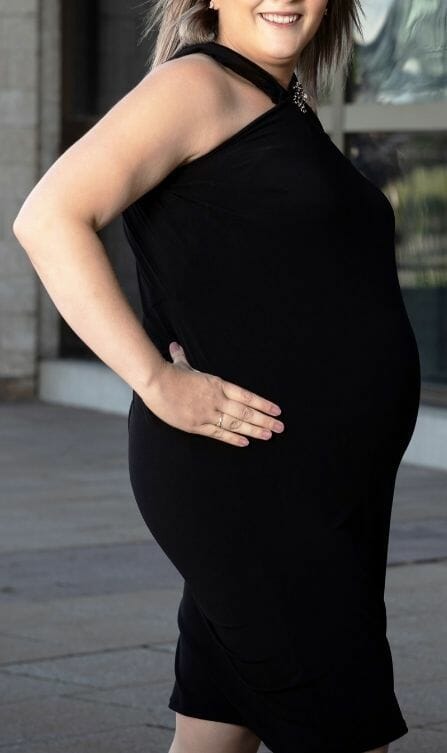 Meet comfort and style all in one!
Where did the sleeves go? This piece is ultra feminine and very practical to wear when you have a full belly. Transform your garment as a strapless top. Take your arms out of the sleeves then have fun tying the sleeves around your neck or your waist. Classy and chic!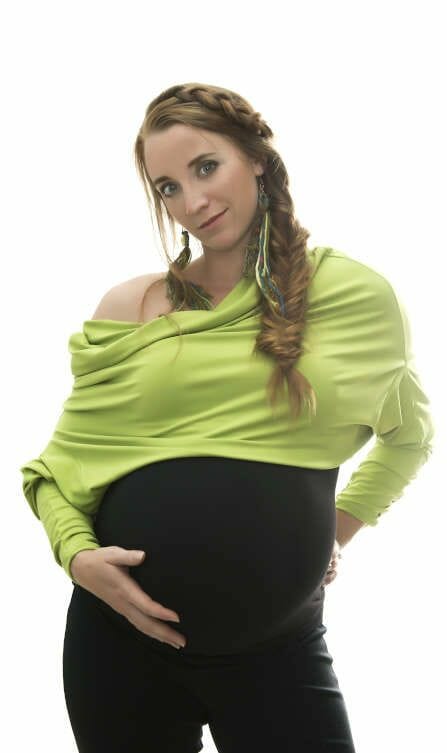 A little shiver?
How can multi-style garment now be so short? Dare to wear your clothes head down, that is the neck down and you now have a bolero. Create your crop style by playing with the collar length, forward for a drooling collar, back for a hood look and why not on the head to cover yourself. To display a nice baby bump, nothing like this. Who would have thought of that?
High-Quality
Versatile Garment

About Our Quality Fabric
High quality and stretch to ensure comfort. Made of 92% polyester, 8% spandex assembled with a thread allowing for extension without break ups. Care Instructions

Transformation
This adaptable garment will mold you through every stage of your pregnancy. With a few easy twists and turns, create more than 15 different looks with the same garment.

Canadian Product
Designed and made in Quebec, Canada.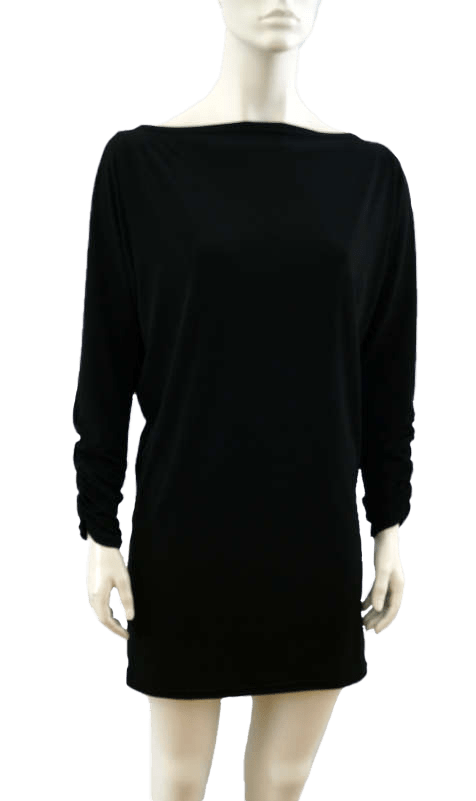 Trend
Trendy colors vary with the seasons.

Design details
The baggy garment cut allows space for all the pregnancy stages. Adjusting to the hips, it creates a different length and style.
Notice the stylish details of the sleeves.

Size Guide
Choose the same size as before pregnancy. Model is wearing size Small. Refer to our Size Chart
Frequently
Asked Questions
Care Instructions
+
-
Machine wash on gentle cycle. Flat dry or tumble dry low to preserve spandex elasticity.
How do I create different looks from a dress-tunic? 
+
-
It is easy to transform the Vestita garment. Remember the following 3 expert tips to create 4 styles. Start by removing your arms from the sleeves and:
– tie the sleeves behind the neck;
– tie the sleeves at the waist;
– wear the neck upside down to create a bolero
Or wear it with the sleeves.
Every Vestita garment comes with a card of illustrations of the different styles. Watch the videos on how to create the different styles.
Start with a transformation you like, then you will find it easy to add new transformations. It is a real winning solution to have 2 looks with only 1 garment! Have fun challenging your friends!
Do I need to specify the styles that I want when ordering?
+
-
No need to specify the styles as all transformations are created from one same basic garment, the dress-tunic. Select the size and color of your Vestita garment when ordering and enjoy making the different transformations. Is not this a versatile garment?
How is the Vestita transformable garment different from the pareo I bought on my last trip and was not able to make the different styles?
+
-
Vestita clothings are primarily ready-to-wear. In addition, you have the flexibility to switch between transformations as pertinent to the activities on your agenda.
With Vestita, remember the 3 tricks to create 4 styles:
– attach to the neck,
– attach to the waist or
– reverse the garment
and also wear it as is.
Every Vestita garment comes with a card of illustrations of the different styles.
Watch the videos on how to create the different styles.
Does the garment keep its shape after several transformations?
+
-
Absolutely. In fact, there are three (3) important elements that ensure the quality of our transformable garments:
Fabrics: several types of fabrics have been tested to ensure a beautiful drape and that its shape stays the same after several stretches.
Thread: The choice of sewing threads is an important detail. Our thread we have chosen has a slight elasticity that resists stretching during the transformations of the garment.
Design: Once the fabrics and threads have been chosen, it is necessary to adjust the design of the garment to ensure beautiful transformations.